SECOND WEDNESDAYS:
On second Wednesdays, we gather for an energizing evening for children age 3-5th grade and their families. At 6:00 p.m. all are invited to eat a simple meal as family and friends. After some singing, we split off into age specific groups: Pre-school & Kindergarten, 1st & 2nd grade, 3rd-5th grade, and adults for a brief lesson or discussion. At 7:00 p.m. we join back together for a brief all-ages worship service with fun music, sensory engagement, and an interactive sermon that ties the whole night together!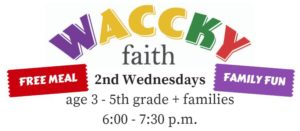 ---
SUNDAY WORSHIP:
From birth through 2nd grade, children are invited to participate in church in a variety of ways.
On Sunday mornings, our professional nursery worker is available to care for your little ones from 9:30am through the end of second service. Children of all ages are welcome in the sanctuary for service, but the nursery is available for you if you choose. Around 2nd grade, we encourage parents to keep their kids in the sanctuary for the whole service to worship as a family.
Both the nursery and the crib-room have windows to see into the worship service, and you can hear the service in these rooms as well.
At the entrance to the church, you'll find "worship bags" for young ones to use while they are in the service so they can listen, color, and learn alongside their families. We know that God put the wiggle in your kids, and we hope that you'll be encouraged to worship with them in the pew. Point out the page in the hymnal when you sing, if your little one can't see over the pew feel free to have them stand on the pew, and let them engage the service as they feel appropriate.
Finally, we do have a "Children's Moment" in each worship service where children (and parents) are invited to come up to the chancel steps to have a brief lesson with Pastor McKinna and a repeat-after-me prayer. This is a great chance for your kids to get a different perspective of worship.